This classic Chicken Divan recipe is a great addition to any casserole collection. With minimal effort, you can feed a crowd or a large family with this easy chicken broccoli casserole. Perfect for busy weeks when easy casserole recipes come in handy or when you need to bring a dish to a potluck or luncheon. This Chicken Divan recipe is sure to become an instant favorite among your easy chicken recipes.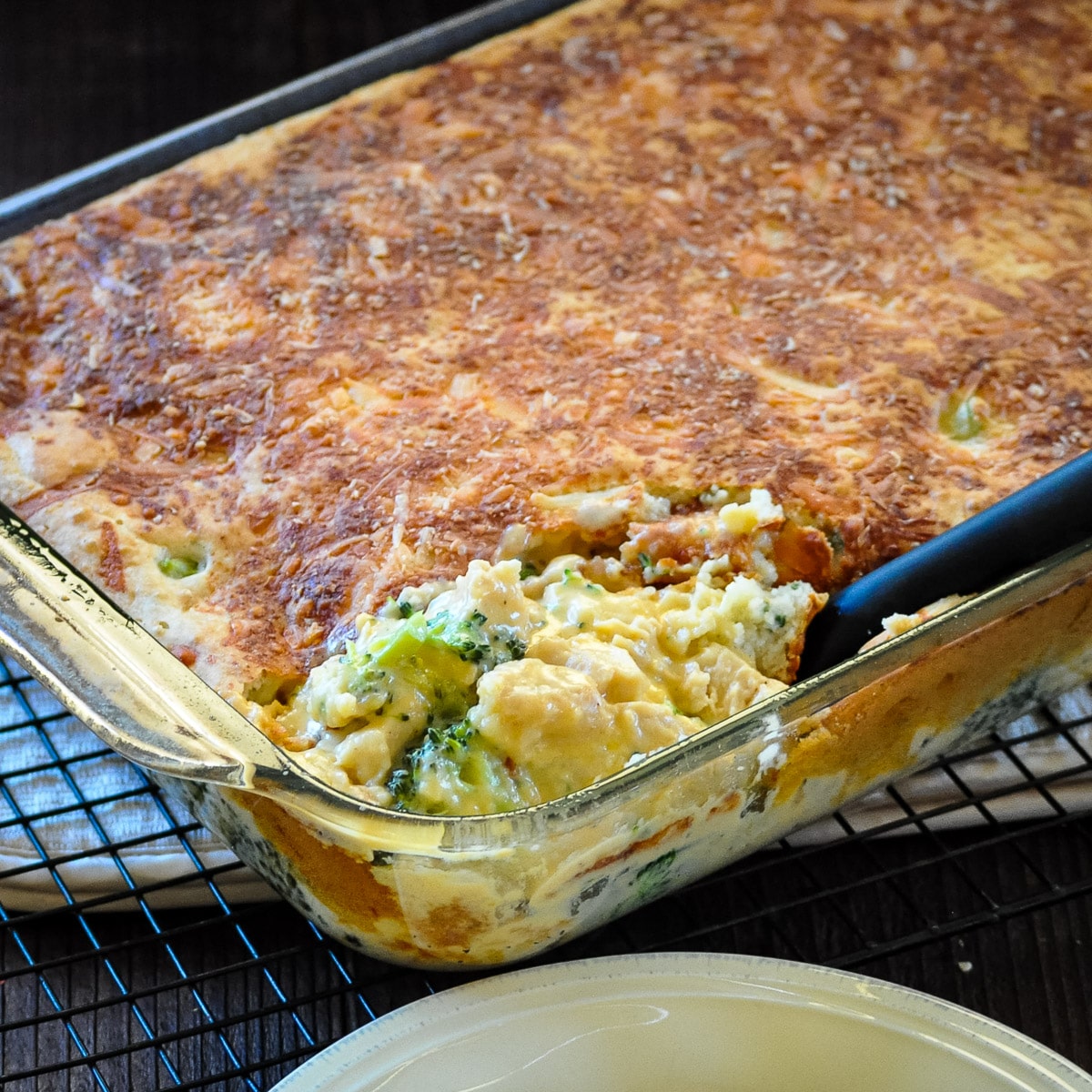 This Chicken Divan recipe is not only delicious but also incredibly easy to make. With ingredients that you may already have available or can quickly pick up at your local supermarket, you can have a tasty and satisfying meal on the table in no time.
Table of contents
Ingredients needed
To make this chicken casserole you will need,
Broccoli - We really prefer to use fresh broccoli in this recipe. You can use frozen broccoli though if you prefer.
Cooked chicken - Chicken breast or chicken thighs will work. Whatever you have available. I love to use leftover rotisserie chicken. Or, how about some of that leftover Thanksgiving turkey?
Cheddar cheese - pre-shredded cheese is great for convenience but shredded your own cheese will give a better texture and flavor, in my opinion.
Jar of Alfredo sauce - the secret to the creamy sauce. Use your favorite jar of bottled Alfredo sauce. I really like the Newman's Own brand.
Milk - whole or 2% will work fine.
Bisquick - regular Bisquick.
Sour cream - sour cream is used in the biscuit topping. Yum!
Parmesan cheese - is always a great finishing touch.
The ingredients amount and complete recipe directions are shown below on the printable recipe card.
Step-by-Step Directions
Make the chicken casserole filling
Step one is to start cooking the broccoli for your chicken broccoli casserole recipe.
We don't like to find crispy and undercooked broccoli in our chicken divan. But, we don't want it mushy either.
Place several cups of broccoli in a dish with a small amount of water, then cook in the microwave for about 3 minutes. This is an easy step for making the filling of your chicken broccoli casserole.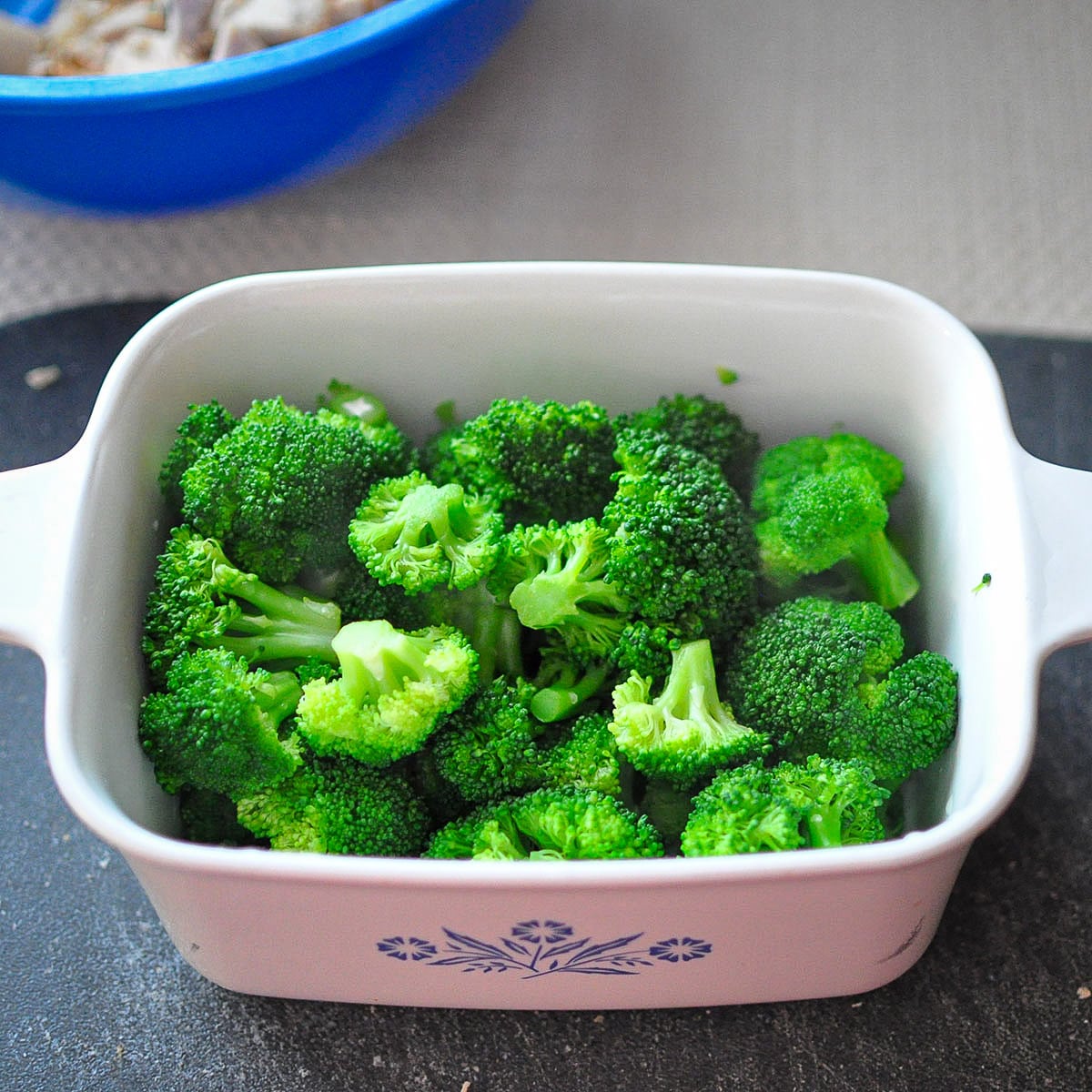 The broccoli is done. It is so pretty! 🙂
Next, prepare the chicken.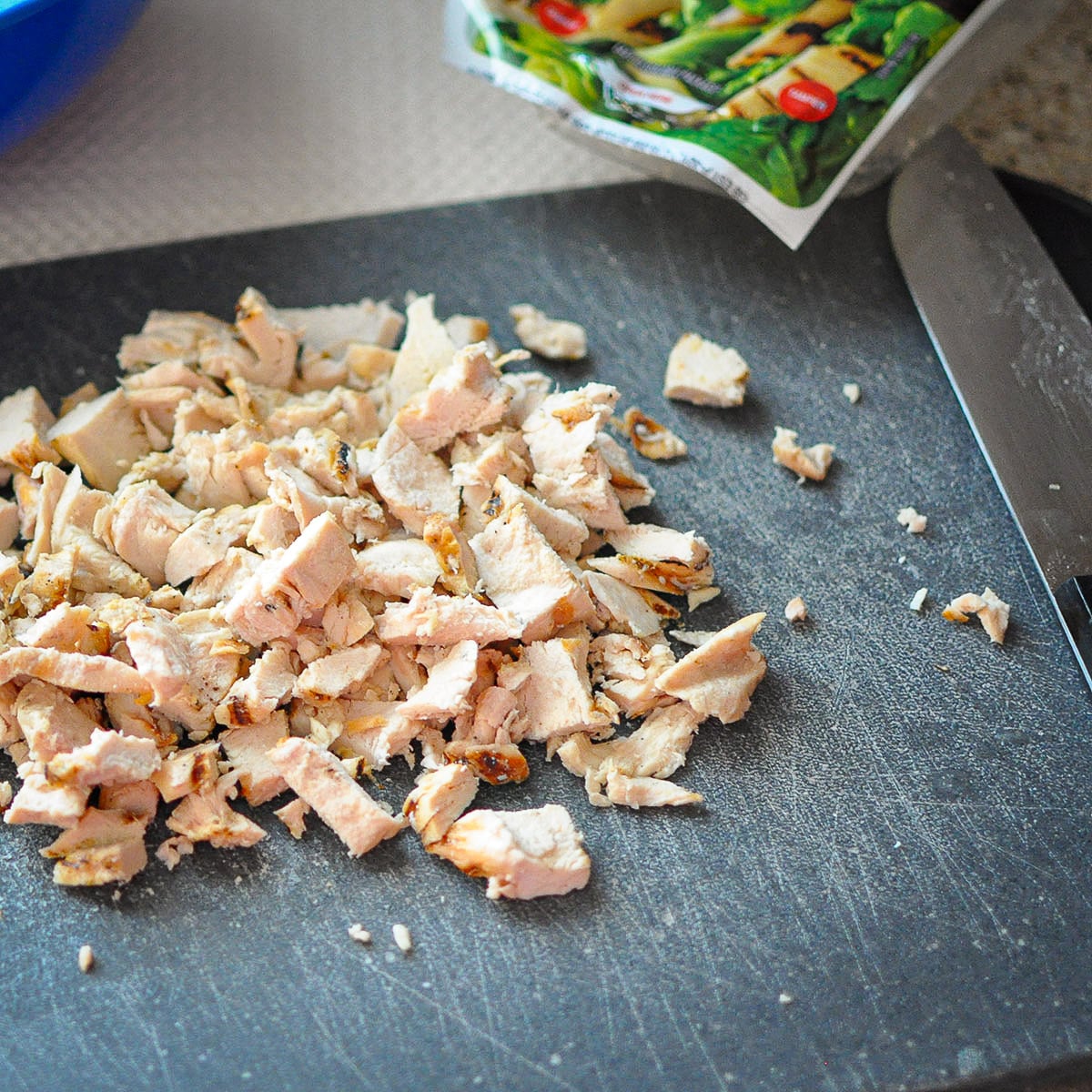 For this simple recipe, I have used rotisserie chicken, but today I am using these pre-grilled chicken strips that we found at Costco. This method is super easy.
You can also cook up some boneless, skinless chicken breasts or thighs, or even chicken tenders. Cook the chicken in a skillet with a bit of olive oil or medium-high heat. When the chicken has thoroughly cooked, shred or cube the chicken.
This is a great recipe to use up any leftover chicken you may have. Or, leftover turkey!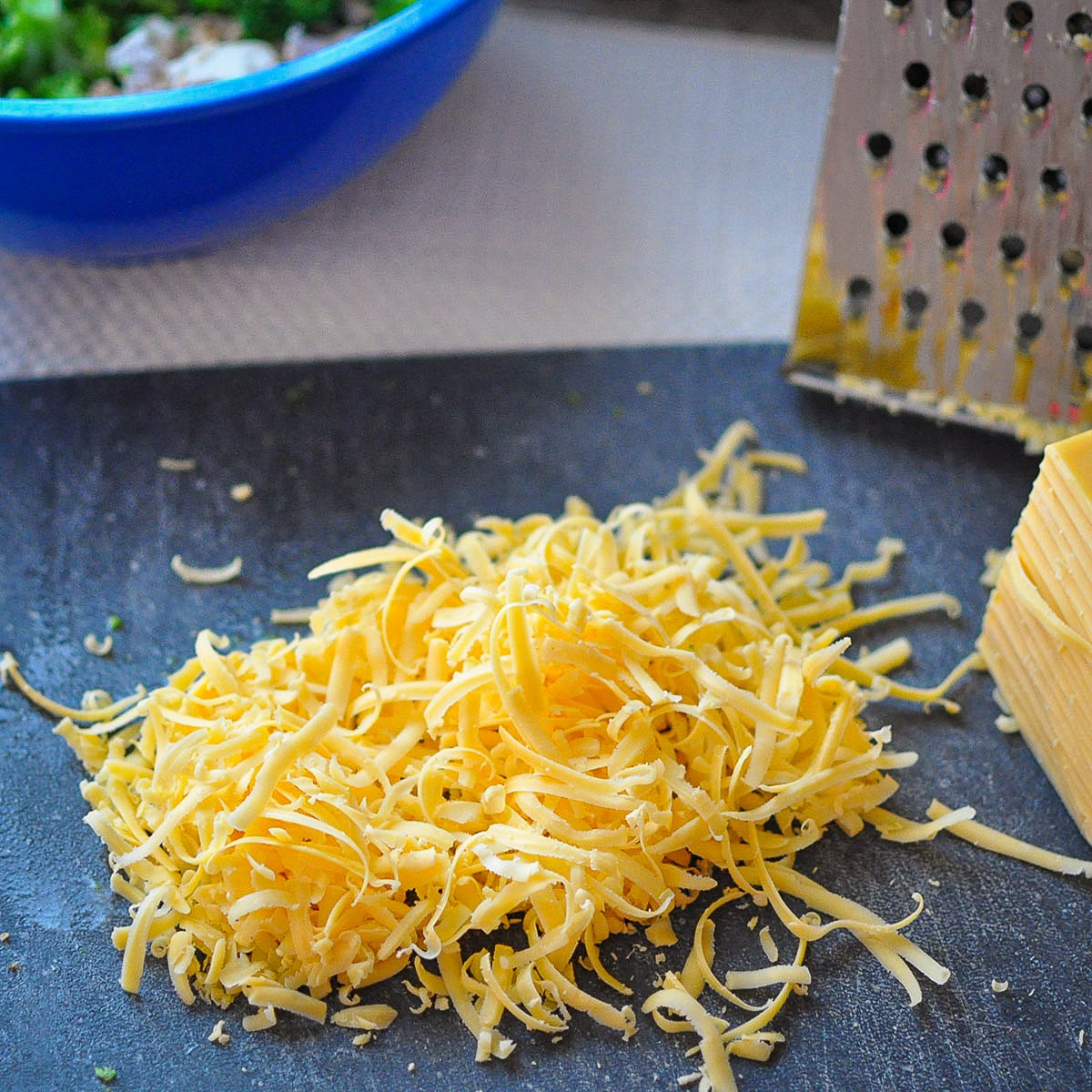 Cheese, cheese, cheese... glorious cheese!
Okay, sometimes I used the pre-shredded cheese but I have to admit it is worth the effort to shred your own. I am using a medium cheddar. What type of cheese you use is really a personal preference.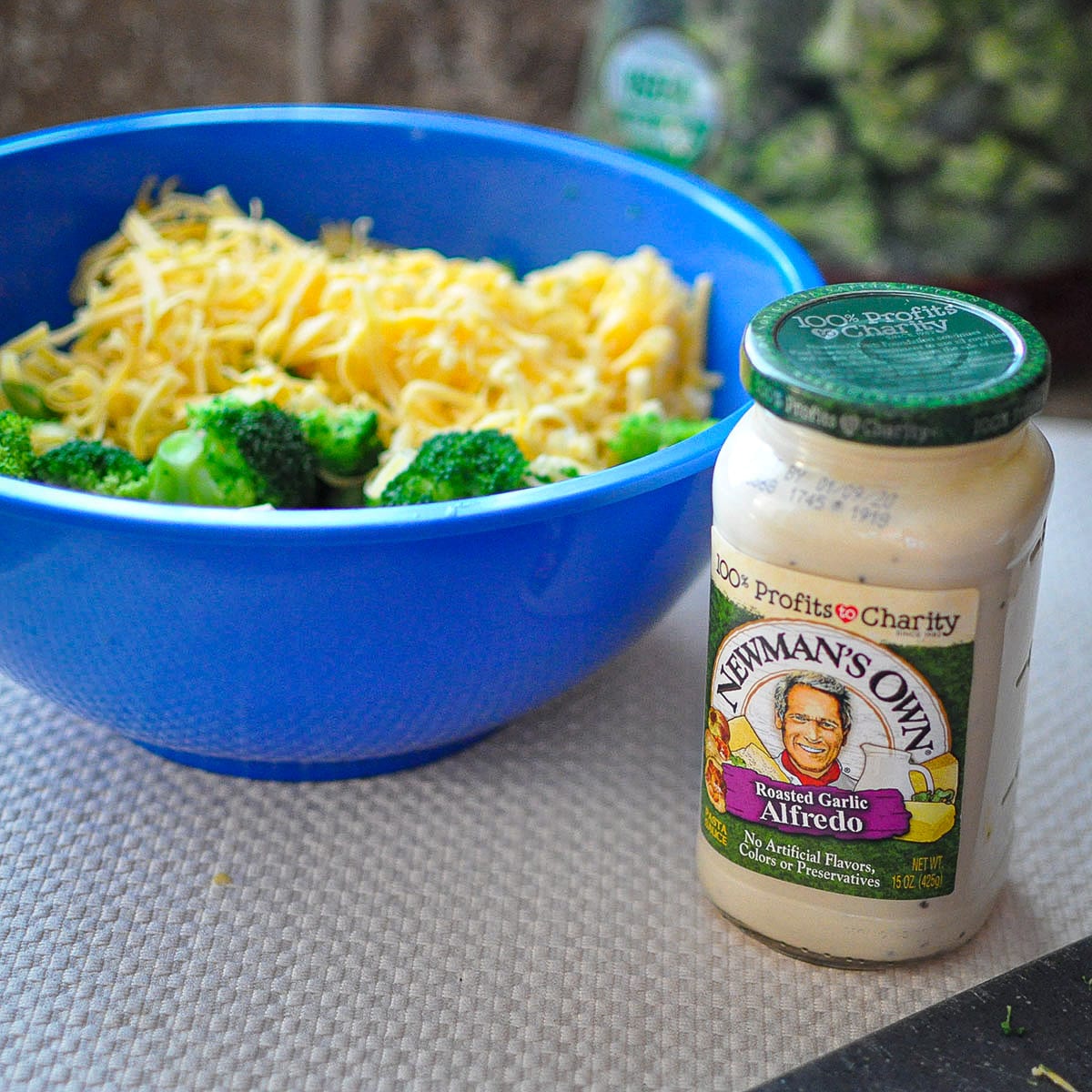 Now that we have the chicken, broccoli, and cheese in the bowl we need to mix in the creamy cheese sauce.
I like to use Roasted Garlic white sauce. I have used white sauces by Newman's Own, Ragu, and Preggo. Pick your favorite!
One other thing I have learned, after pouring the sauce into the bowl I fill the jar ½ to ⅔ full of milk. Put the lid back on and shake it up. Add the milk to the bowl and mix well.
If you don't add the milk the filling might be a bit thick.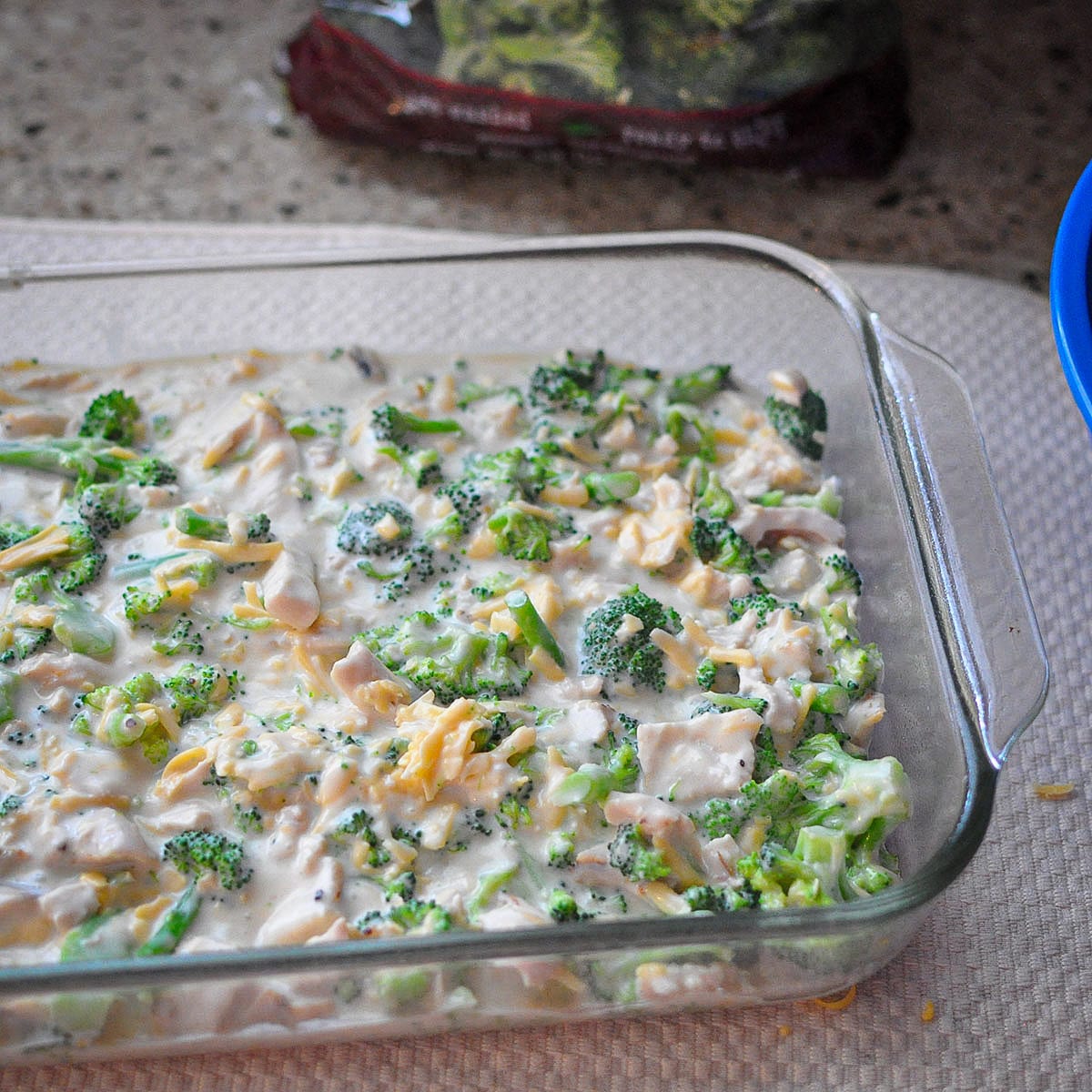 After you have mixed the ingredients all together, add the mixture to a 13" x 9" casserole dish that you have sprayed with non-stick cooking spray.
Next, it is time to make the topping.
Making the biscuit topping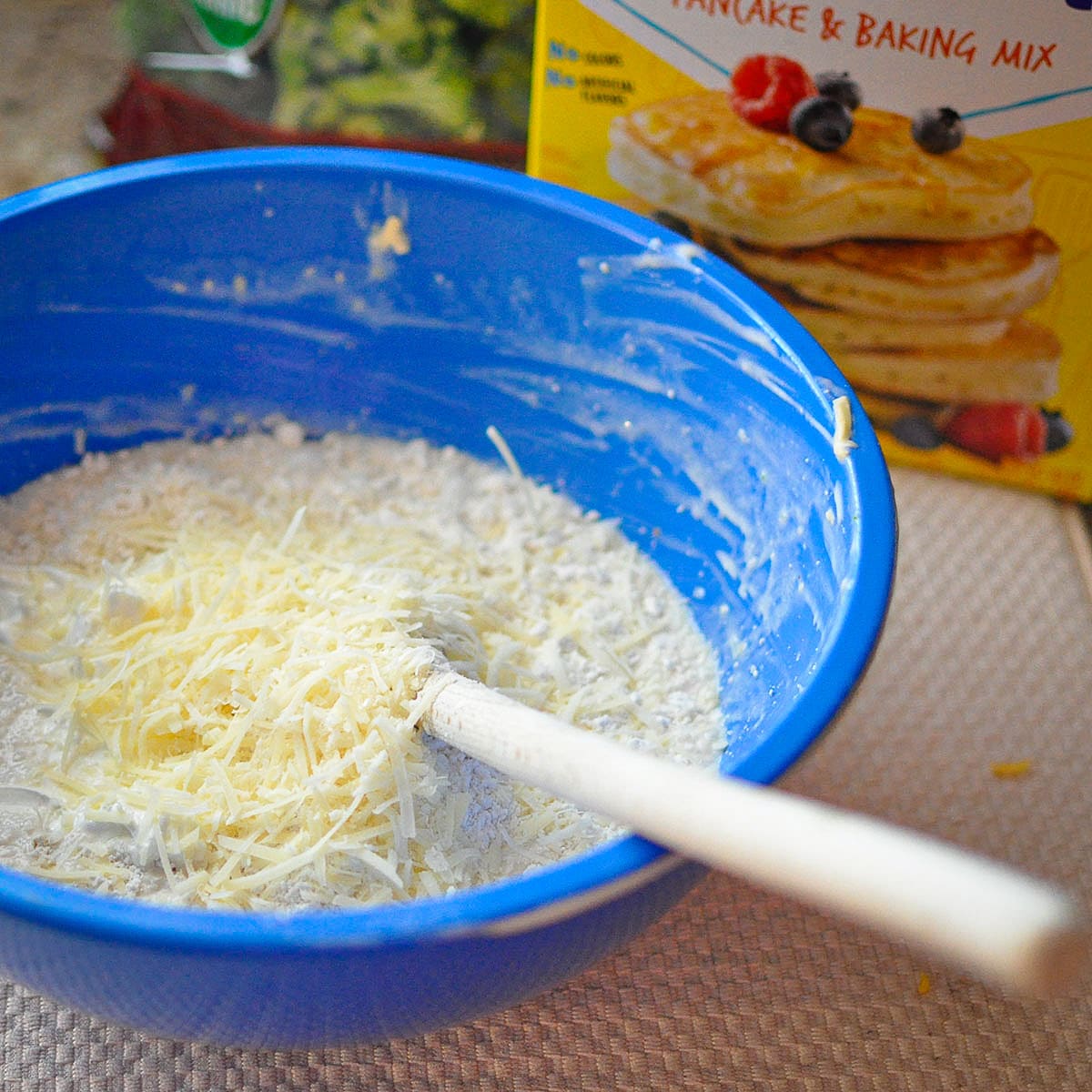 I just grab the same bowl I mixed up the chicken filling in because, well, I hate to do dishes. It's all going into the same place after all, right?
Here I mixed together Bisquick, sour cream, milk, and Parmesan.
How to bake Chicken Divan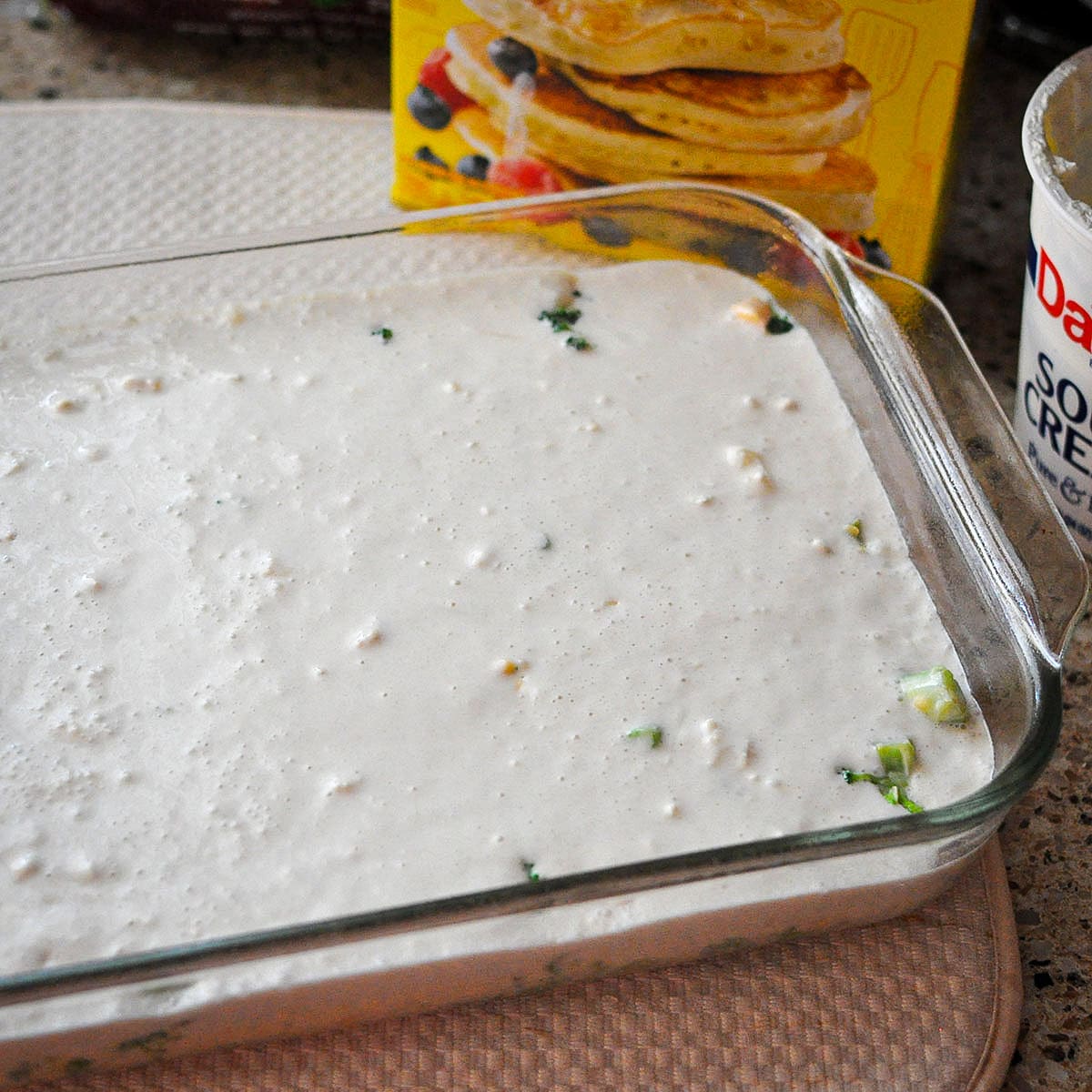 Pour the batter over the chicken and you have... cake batter! No, just kidding. It just looks a little like cake batter. It will be great, trust me.
Put the chicken divan in a preheated 400-degree oven and let it bake.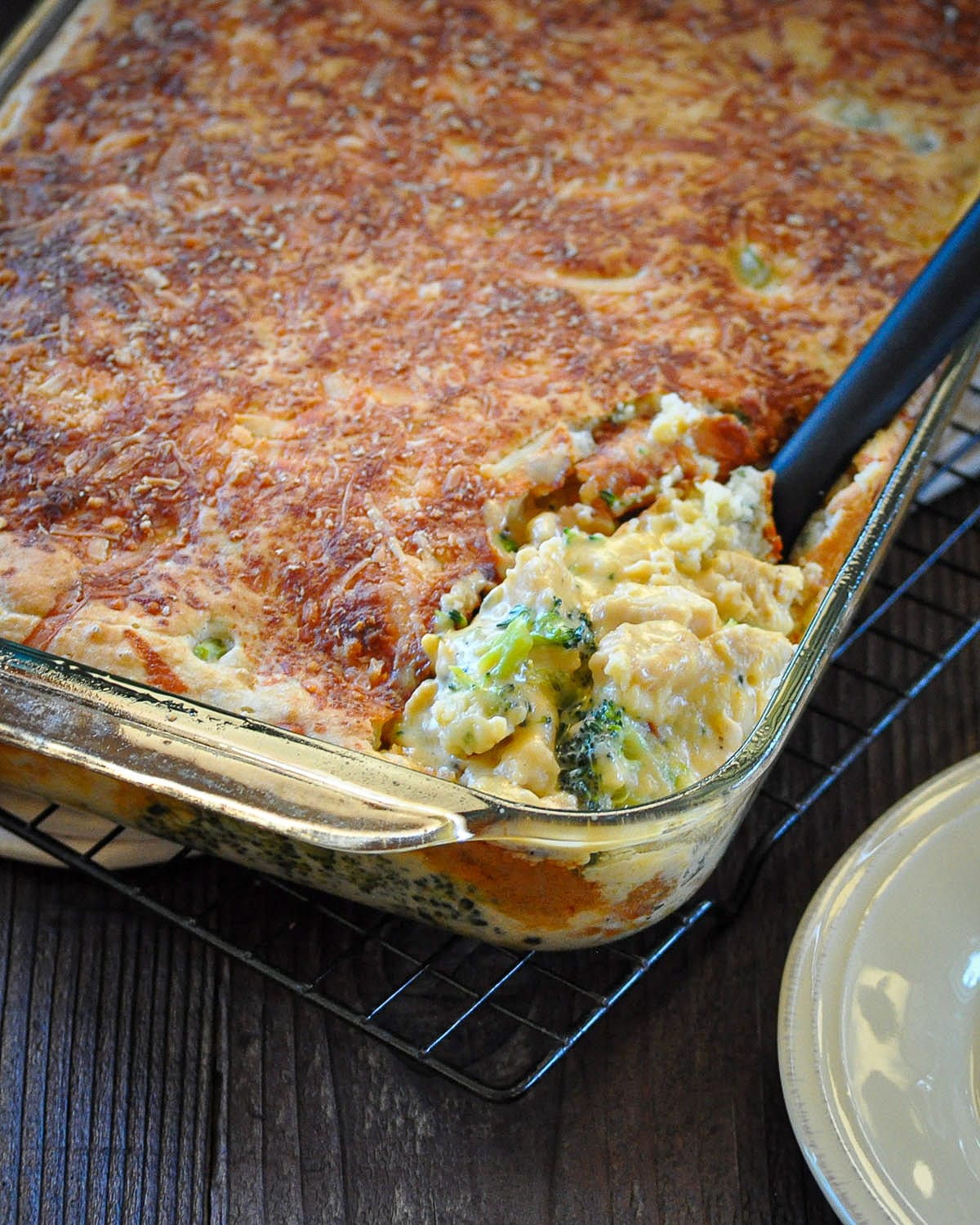 The biscuit topping on the chicken divan will be nice and golden brown when it is done. The inside is creamy chicken, with cheesy sauce and broccoli. A complete meal in a single dish!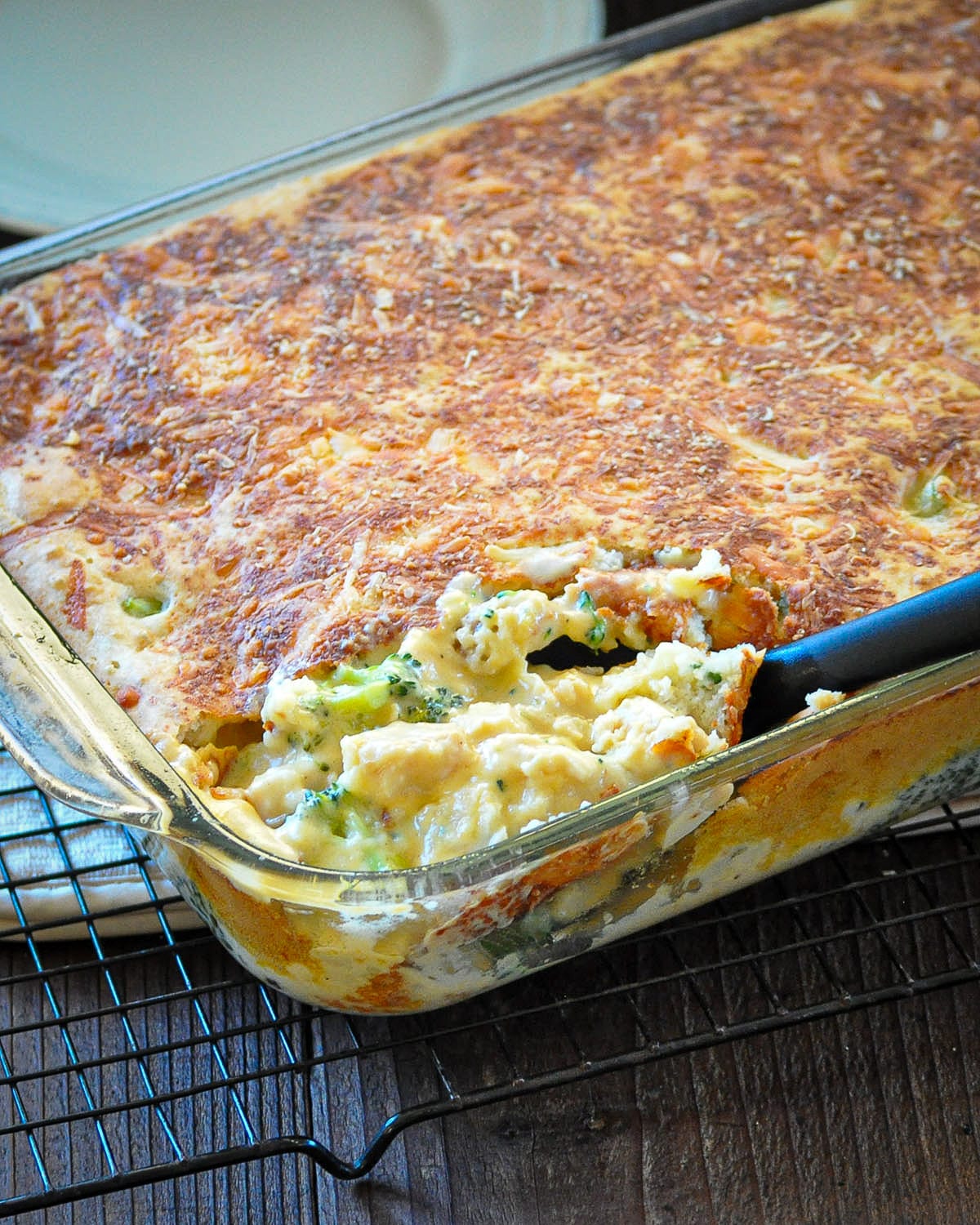 Ah yes. Here we go. Now doesn't that look delicious! Cheesy chicken and broccoli in a garlic Alfredo sauce with a big ol' biscuit on top!
Comfort food!
Other recipes you might like
Recipe FAQ's
What is Chicken Divan?
Chicken Divan is a classic casserole dish made with cooked chicken, broccoli, and a creamy sauce, often topped with cheese. Instead of traditional breadcrumbs, I top my Chicken Divan with a Bisquick biscuit topping.
Can I use leftover chicken to make Chicken Divan?
Yes, Chicken Divan is a great recipe to use up leftover chicken or turkey. Simply shred or chop the cooked meat and add it to the casserole.
How long does Chicken Divan last in the fridge?
Chicken Divan can be stored in the fridge for up to 3-4 days. Make sure to cover it tightly with plastic wrap or foil.
In conclusion, this cheesy chicken broccoli casserole recipe is an easy and delicious way to enjoy a classic casserole dish. With its creamy sauce, tender chicken, and flavorful broccoli, it's sure to become a family favorite. Plus, it's a great way to use up leftover chicken or turkey! Try making this recipe tonight and enjoy a comforting and satisfying meal.
Find all my recipes on Pinterest at Cook This Again. Or on Facebook at Cook This Again. 
Do you love this recipe? Please leave a 5-star 🌟🌟🌟🌟🌟rating on the recipe card below & a review in the comments section further down the page.
Recipe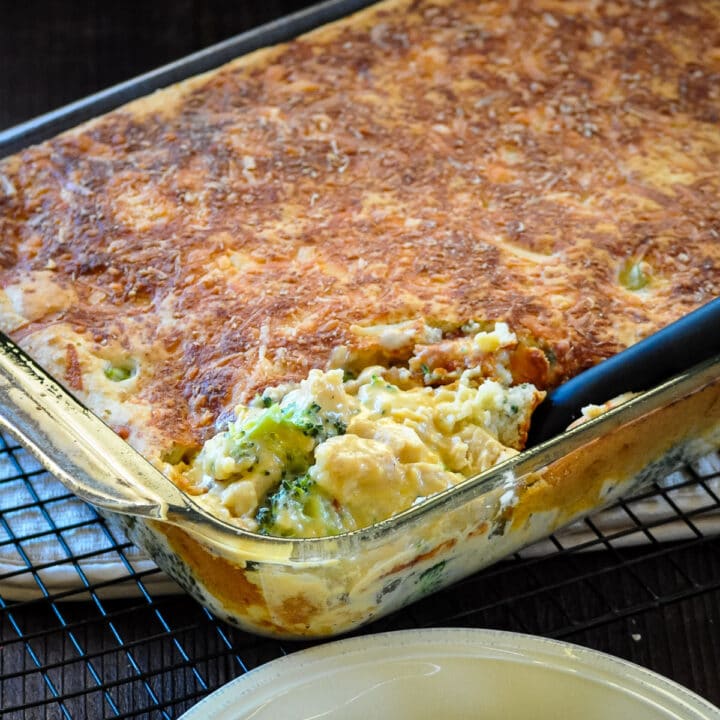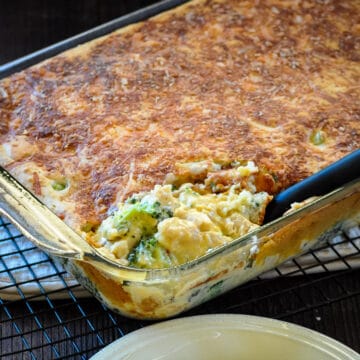 Easy Chicken Divan Recipe
Cheesy Chicken & Broccoli casserole in a garlic Alfredo sauce with a Bisquick topping. Perfect for busy weeknight dinners, or lazy weekends.
Print
Rate
Ingredients
Filling
16

ounces

Broccoli

¾

pound

Chicken

cooked and cubed

2

cups

Cheese, medium cheddar

grated

15

Ounce

Alfredo Garlic Sauce

jar or other white sauce

Milk

fill white sauce jar ½ to ⅔ full
Biscuit Topping
2

cups

Bisquick

1 ½

cups

Milk

½

cup

Sour Cream

¼

cup

Parmesan

grated
Instructions
Preheat oven to 400 degrees.

Put broccoli in a dish with a small amount of water. Cook in the microwave for about 3 minutes.

Place cubed chicken, broccoli and cheese in a large bowl. Add the jar of white sauce. Add milk to the jar filling about ½ to ⅔ full. Replace cap and shake well. Pour the milk into the bowl and mix everything together. Pour the chicken mixture into a 13 x 9 baking dish that has been sprayed with non-stick spray.

Using the same bowl, mix together Bisquick, sour cream, milk and Parmesan. Pour the batter over the chicken mixture. Bake the chicken for about 35 minutes or until golden brown and toothpick comes out clean in biscuit topping.
Nutrition
Calories:
313
kcal
|
Carbohydrates:
18
g
|
Protein:
13
g
|
Fat:
21
g
|
Saturated Fat:
10
g
|
Cholesterol:
63
mg
|
Sodium:
686
mg
|
Potassium:
250
mg
|
Fiber:
1
g
|
Sugar:
5
g
|
Vitamin A:
569
IU
|
Vitamin C:
34
mg
|
Calcium:
261
mg
|
Iron:
1
mg