Roasted Whole Chicken is my husband's favorite meal. We have cooked a lot of them over the years and tried a lot of different recipes. We often use the simple method described below and the chicken comes out juicy and tender every time.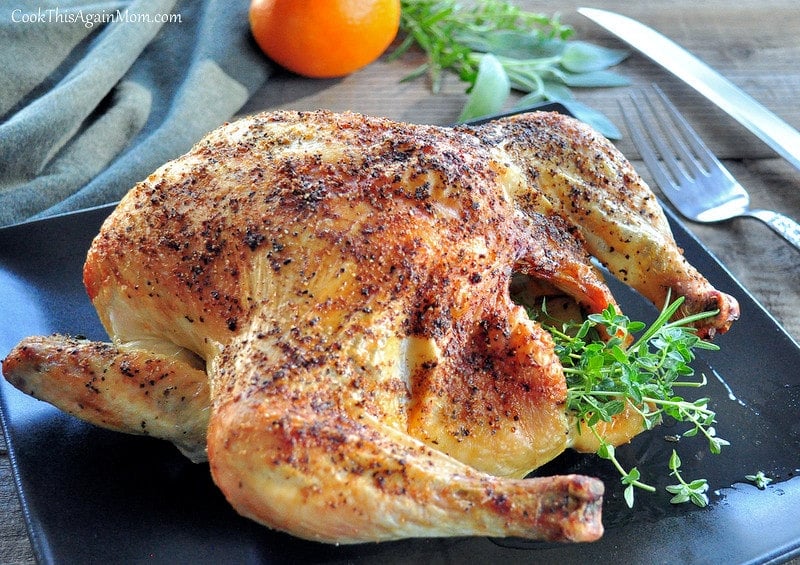 I often make a couple of roast chickens on Thanksgiving instead of turkey because they are so simple to prepare, juicy and absolutely delicious!
---
Recipes you might also enjoy
---
Ingredients needed
Whole chicken
2 large onions
lemons or oranges
olive oil
salt and pepper
garlic powder
herbs.
*For the herbs, I buy the poultry mix herb package (you can find it in the produce section) that includes rosemary, thyme, and sage.
---
How to prepare a Roasted Whole Chicken
Get a baking dish that the chicken fits in nicely, do not squish the chicken to make it fit. Coating the baking dish with non-stick spray first really helps with clean up!

Cut up the onions into large slices and make a layer in the bottom of your roasting dish. Reserve a few pieces of onion to put inside the cavity of the chicken.

Cut the lemons or oranges into pieces and set aside with the reserved onion and the herbs.  

Mix the salt, pepper, and garlic powder in a small dish to have ready, about 1 teaspoon each. If there isn't someone by to help, I often put the olive oil in a separate dish too. That way I can grab everything I need for the chicken without washing my hands a dozen times.

Place the chicken on top of the layer of chopped onions. Put the reserved onion and a few slices of the lemons or oranges inside the cavity. Place the remaining citrus around the chicken. You can also squeeze a little of the citrus juice over the chicken.

Coat the chicken with the olive oil and rub with the salt, pepper, and garlic mixture. Tuck the herbs in the cavity.

Now you can wash your hands.

Put the chicken in a 375-degree oven and cook until the temperature reaches 165 degrees. On average my chickens take about 1 ½ hours to cook. The time will vary depending on the size of the chicken.
---
Roasted Whole Chicken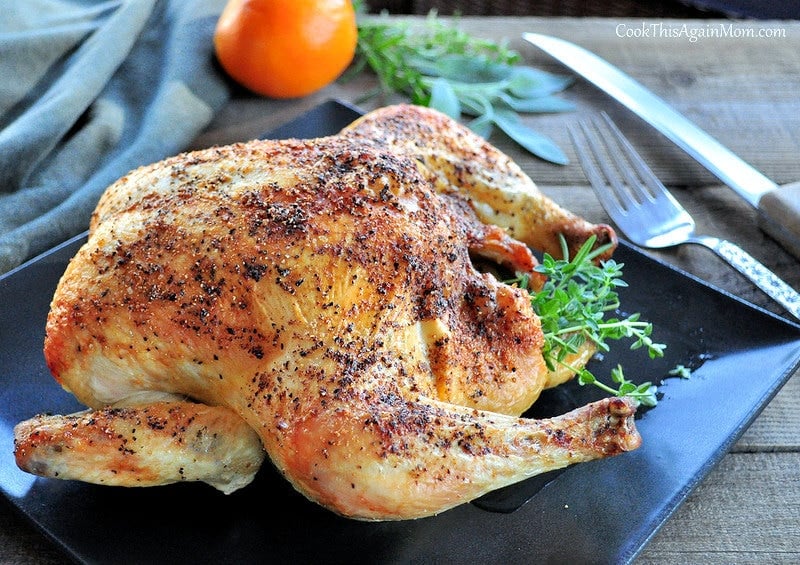 Finally, when the chicken is done remove it from the oven and let it set 10 – 15 minutes before cutting.
This method produces a juicy roast chicken every time. The bonus is that the recipe is simple and the clean up is a breeze.
---
How about a dessert recipe?
---
Enjoy!