These delicious Pecan Honey Buns are yet another wonderful recipe found in my mom's old recipe card box. This recipe contains no yeast and goes together pretty quickly.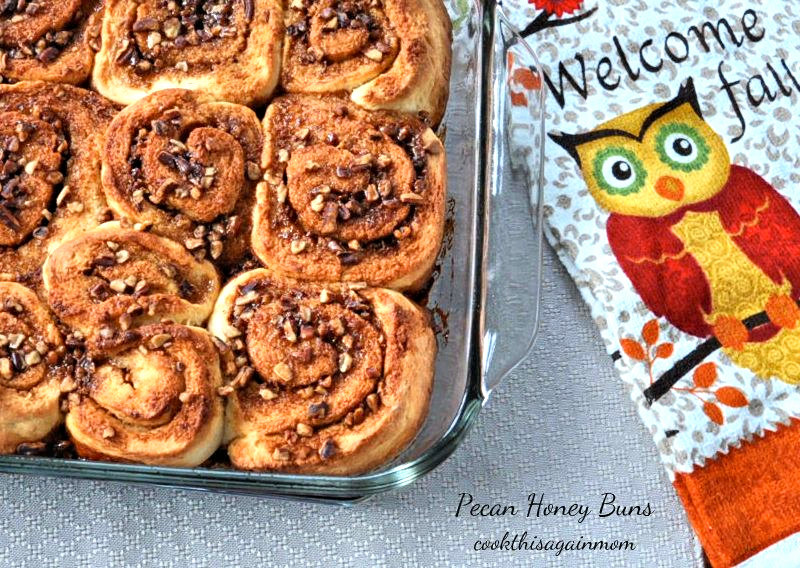 I made them for my family last Sunday morning and it really brought back the memories of my mom baking them when I was young.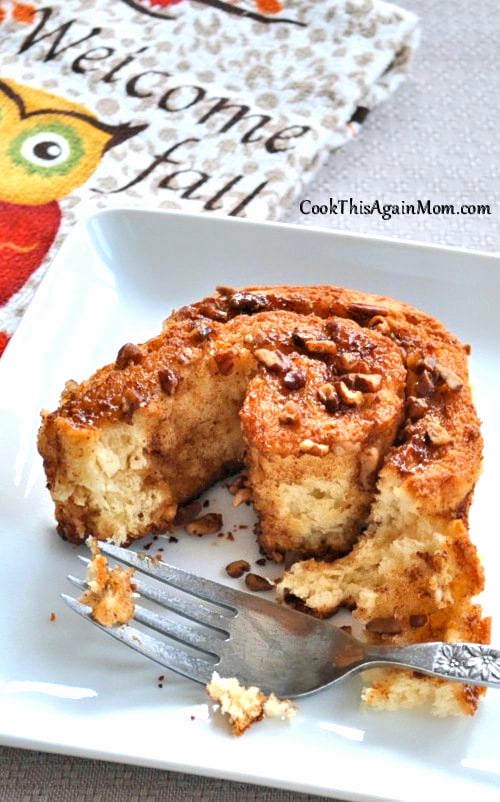 Pecan Honey Buns
3 cups Flour
3 teaspoons Baking Powder
1 teaspoon Salt
⅓ cup Sugar
½ cup Butter
1 cup Evaporated Milk
1 Egg, beaten
⅓ cup Brown Sugar, packed
1 1 /2 teaspoons Cinnamon
4 ½ teaspoons Orange Rind, grated
3 tablespoons Butter, melted
⅓ cup Honey
⅔ cup Pecans, chopped
Sift flour, baking powder, salt and sugar together (I put them all into a large bowl and mixed well with a wire whisk). Cut in the butter until mix resembles corn meal. Add the milk and egg, stirring until a soft dough forms. Turn dough onto a floured surface and knead for about 1 minute. Roll dough in to a rectangle about 10 x 15 inches.
Mix together the brown sugar, cinnamon, orange rind, melted butter, and honey. Spread half of the honey mixture onto the dough and sprinkle with ⅓ cup of the chopped pecans. Roll up the dough like you are making cinnamon rolls and slice pieces 1" thick. Place into a baking dish that has been sprayed with non-stick spray. Top the rolls with remaining honey mixture and sprinkle with remaining chopped pecans.
Bake in a 400 degree oven for 20 - 25 minutes, or until golden brown. Cool slightly. You may want to remove them from the baking dish at this point or turn them over onto a piece of foil. They may stick a bit to the dish when cooled completely. Enjoy!
*My mom had the oven temperature at 425. I think they do better at 400 degrees.
*Mom had them placed into muffin tins. I used the glass baking dish for easier clean up.