My husband likes a lot of different kinds of food. He isn't picky at all. But chicken is probably his favorite. This is a photo of a chicken he cooked on the BBQ a few days ago. He loves that dark, crispy, char and he tells us what he does to achieve it. If you prefer not to have all that char, you can easily skip that step. If you try this BBQ Chicken – A Step by Step Guide you will see how simple, and delicious, a BBQ whole chicken can be!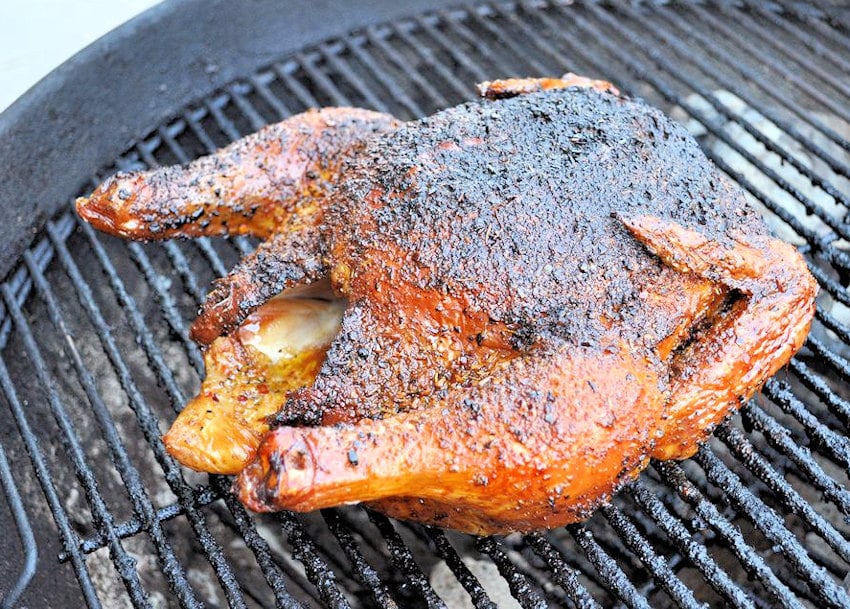 Since he is the Grill Master in this house, I asked him to help me with this post for his BBQ Chicken. Not only does he do an awesome job cooking, but he also takes some pretty amazing photos! Here is a simple step by step guide on how he prepares this beautiful BBQ Chicken.
Getting Started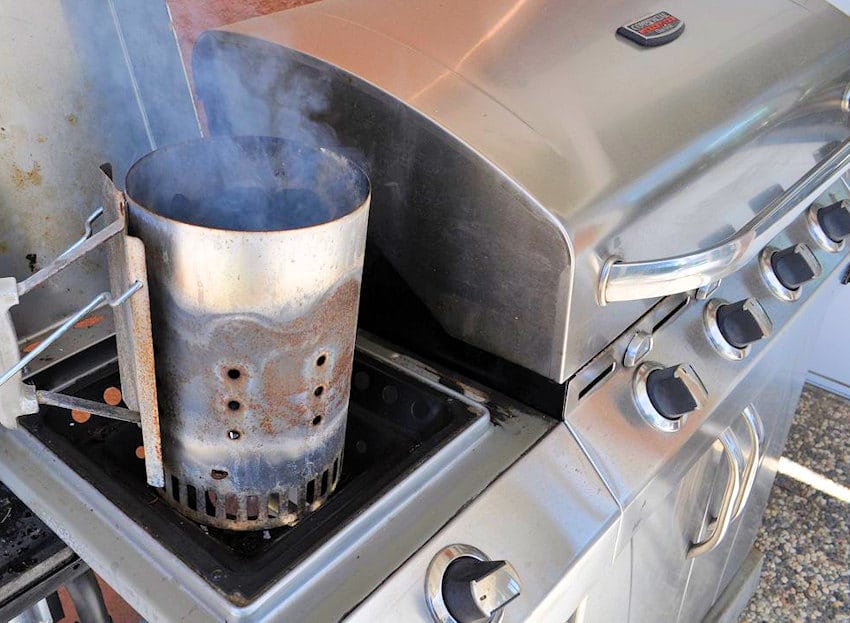 To avoid any 'lighter fluid' taste, he prefers to start the briquettes using the burner on his grill. He uses 18 – 20 briquettes for a 4 lb. chicken and 25 – 30 briquettes for a 6 lb. chicken. Place the briquettes in the starter chimney and turn on the burner. It takes about 1 minute for the briquettes to start to smoke. Move the chimney to your BBQ.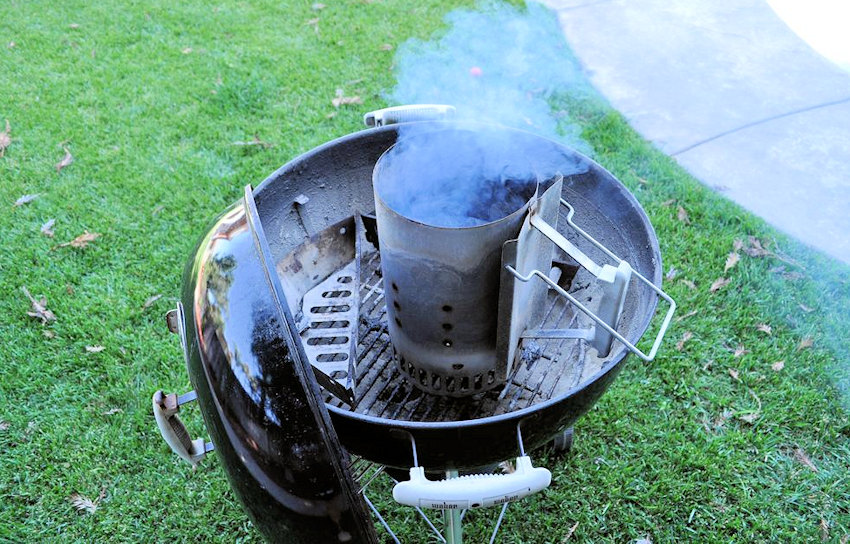 You want to leave the briquettes in the chimney until the coals on the top are red around the edges. Don't wait too long before removing the coals from the chimney or your coals won't last long enough to cook the chicken.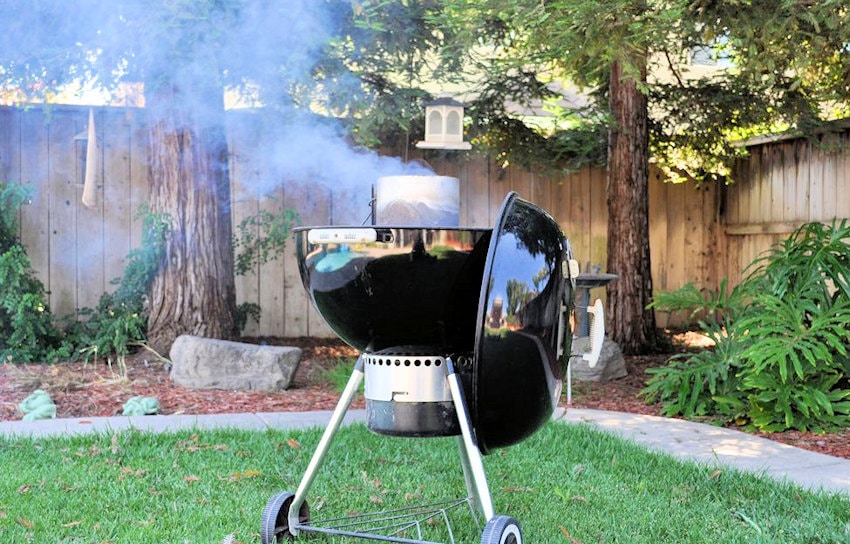 This is about the time he sits back with a beer in hand, and relaxes in his "backyard garden paradise".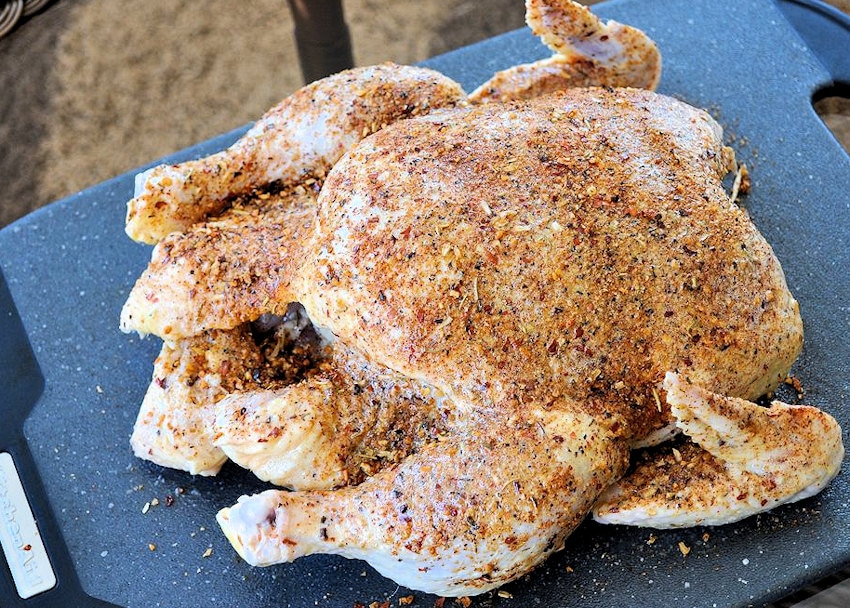 Prepare your chicken by washing it first, rubbing it with some Olive Oil, and covering with your favorite spice mix. He uses something different every time. We often use the McCormick's Grill Mates spices, but sometimes he just grabs whatever out of the cabinet. Garlic powder, smokey paprika, cayenne, salt, pepper, whatever you like.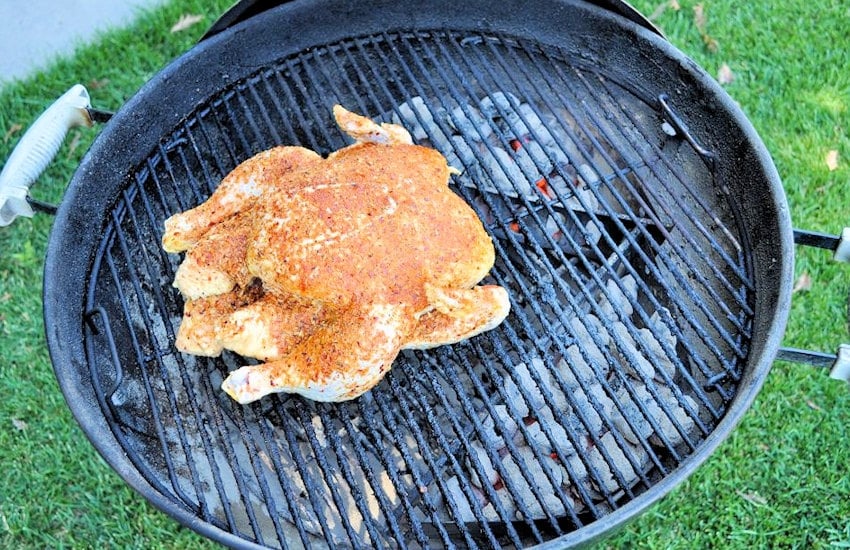 When the coals are ready just make sure they are moved to the side so that you are not cooking over direct heat. He uses a coal basket to keep the coals over to the side. Place the chicken on the BBQ over indirect heat, cover, and do not remove the lid for at least 1 hour. I know you are tempted to, but be patient.
Looking good!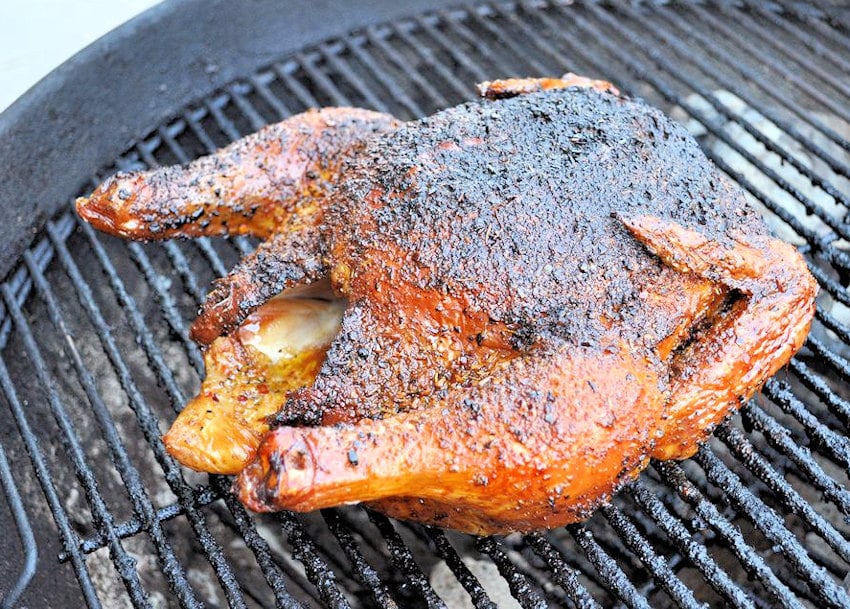 In order to achieve an extra crispy, charred, dark skin as he did, you can also add a piece of bulk hickory. Place the hickory right on top of the coals.  This is optional, and it does add a nice woodsy flavor to the chicken. Skip this part if you like, the chicken will still look and taste fantastic!
A 4-pound whole chicken will take about 1 hour to cook, and a 6-pound whole chicken will take about 1 ½ hours. Use a thermometer to make sure the chicken is done. You want a temperature of 165 – 170 deep in the thigh. Let the chicken rest for about 10 minutes before serving.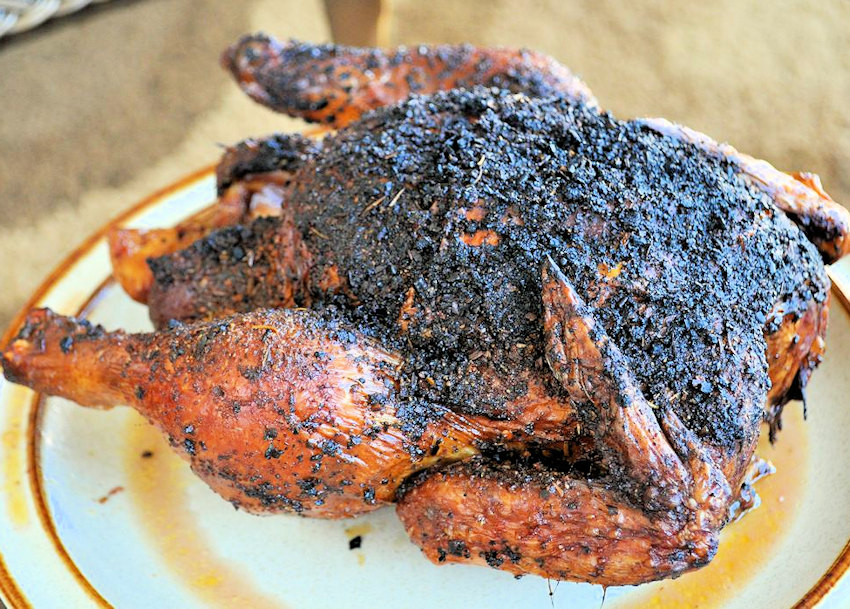 Just look at that beautiful Char! Crispy…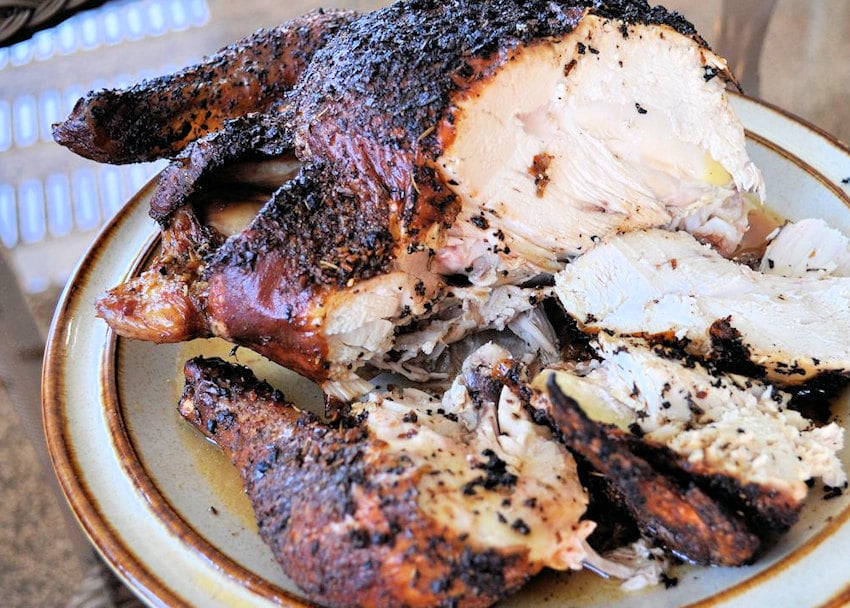 and super moist…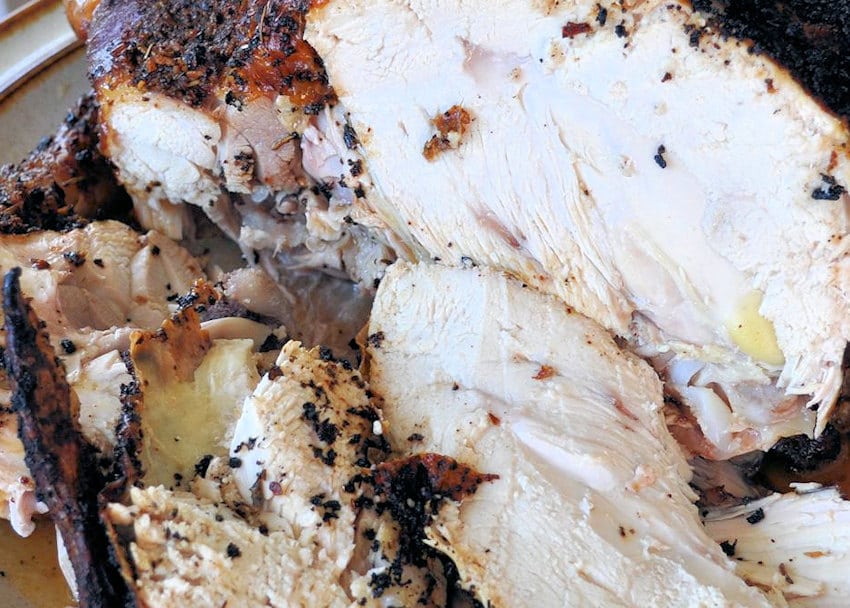 and so delicious!
Some of the links in this article are "affiliate links", a link with a special tracking code. This means if you click on an affiliate link and purchase the item, we will receive an affiliate commission. The price of the item is the same whether it is an affiliate link or not. Regardless, we only recommend products or services we believe will add value to our readers. By using the affiliate links, you are helping support our Website, and we genuinely appreciate your support.