Is there a simple way to freeze peaches? Yep. These Simple Frozen Peaches are a perfect way to use up extra ripe peaches and they are so good in smoothies!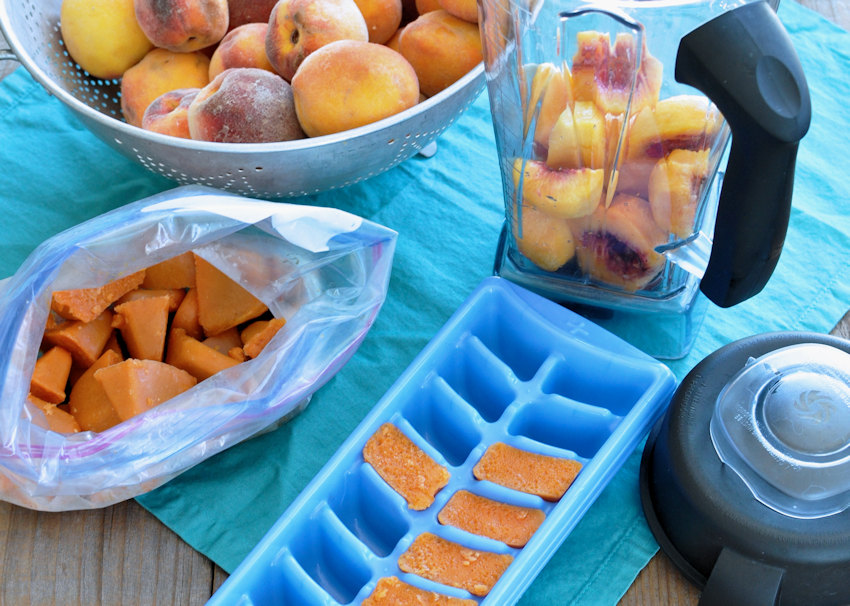 We had soooo many peaches on our tree this year. They were getting ripe so fast, I didn't have time make everything I wanted to with them.
I knew I had to get them in the freezer, so I tried something different, peach cubes. These Simple Frozen Peaches are super quick and easy.
Other recipes you might enjoy
In the past, I have gone through the hassle of peeling, slicing, laying the peaches out on cookie sheets, and freezing them. You need to do the cookie sheet part or else the peaches will all stick together in the storage bag.
This year, since I didn't have that kind of time (or energy!) I tried blending the peaches first and putting them in ice cube trays. It worked out great!
You can add a few of these Simple Frozen Peaches cubes to a smoothie, or add some to a sauce pan to make a quick breakfast syrup.
To make the syrup just add some peaches to a pan along with a little sugar and possibly some cornstarch and a dash of vanilla and cinnamon, cook and stir until thickened. And, there you go. A simple peach syrup for pancakes or waffles.
No, there won't be any Peach Cobbler or Peach Pie from these Simple Frozen Peaches. However, I am sure they will get used up quickly in smoothies. Plus, who knows, I just might think up other uses for them.
You can add a little bit of lemon juice and sugar before you blend them, but I didn't bother.