This post is dedicated to my Grandma Zelda. I miss you, Grandma! Christmas was not Christmas until grandma made a batch of Squiggles.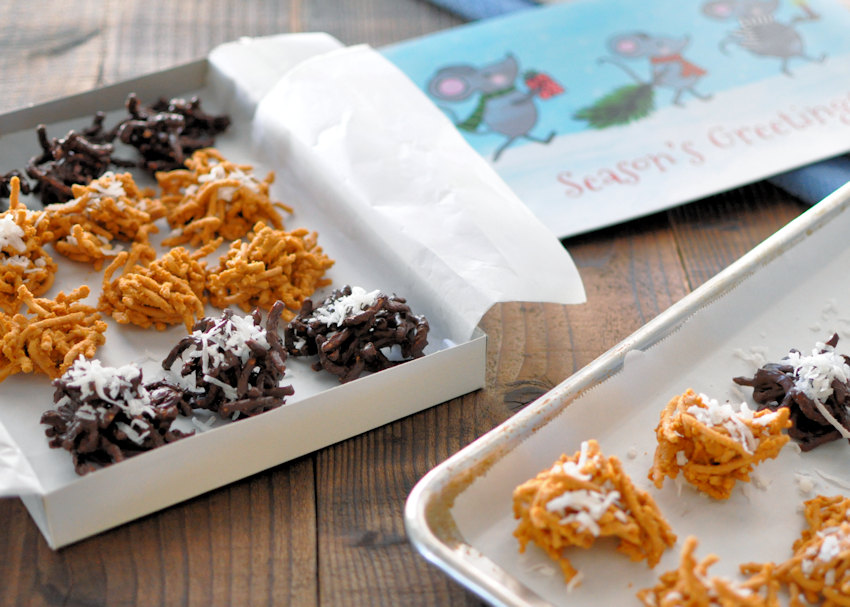 I remember once when I was a little girl, the UPS driver stopped at our house. We knew that a package from UPS had to be from Grandma Zelda. It was just before Christmas and my brother and I were so excited we started to shake the box. We could hear something moving around in there and we were trying to guess what was inside. Mom said she knew, and she suggested we stop shaking the box before we broke what was inside. She told us to go ahead and open it up. Squiggles! Chocolate, and Butterscotch, and Peanut Butter. Oh, yum! Some were plain, and some were topped with coconut, or granola, or peanuts, or M&M's. Heaven! Grandma had made Squiggles and she sent some to us!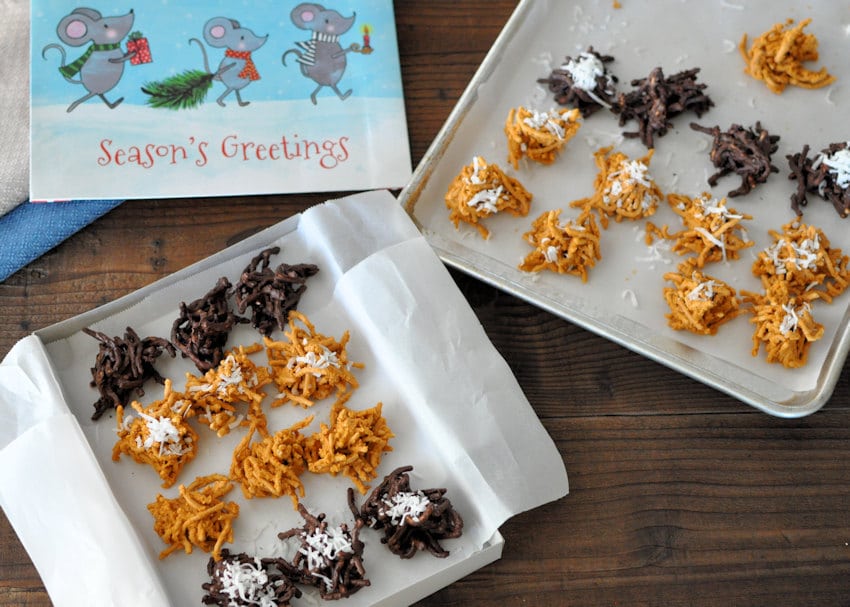 Other people made Haystacks, Grandma made Squiggles!
I have to admit, when I was growing up, I always felt that there was something magical about grandma's Squiggles. Who else made Squiggles? No one! Or so I thought. Imagine my disappointment when I learned that other people did make them, but they just had different names for them. Haystacks, or Chow Mein Cookies. Blah… Boring. We had Squiggles, and we had Grandma Zelda!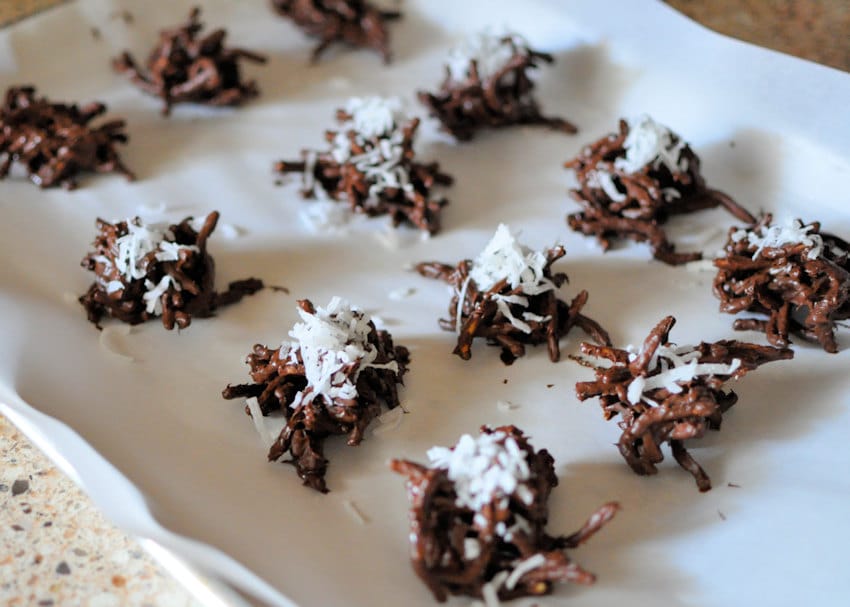 The only thing better than having grandma send you Squiggles was making them with her. Cooking with grandma was always fun. You would be side by side, laughing, talking, giggling, then all of a sudden she would be chasing you with a dishrag or spatula. Not just around the kitchen either. She would chase you around the house and outside. Up and down the driveway, from the front to the back of the house. If you had friends over, she would chase them around too! You would laugh until you cried, and giggle so hard your knees would give out and you would fall to the floor.
---
Other cookie recipes you might like…
---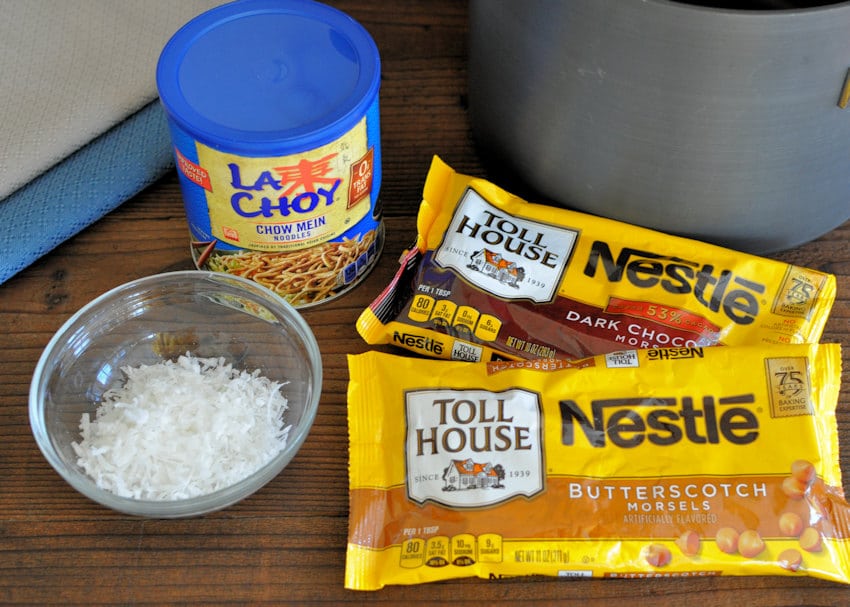 All you need is a bag of your favorite chips and some chow mein noodles. The only chips I had a big problem with was peanut butter. They didn't melt that well. Sometimes I would add a few peanut butter chips on top of the chocolate ones, or mix 1/2 a bag of peanut butter chips with a bag of chocolate chips. Butterscotch chips can be temperamental too, the chocolate chips are the easiest to work with.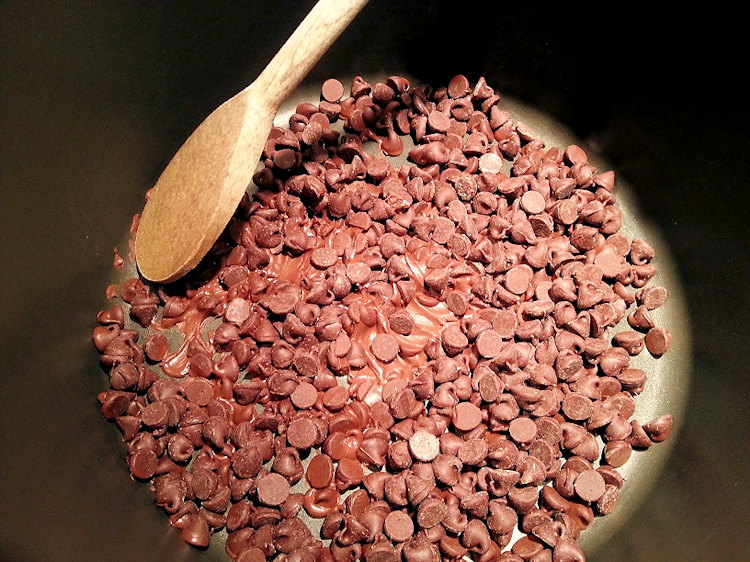 How to make Squiggles
Add the entire bag of chips to a pan over medium-low heat. You can also melt the chips in the microwave, but I have never done it that way. Let the chips sit there until you notice them start to melt.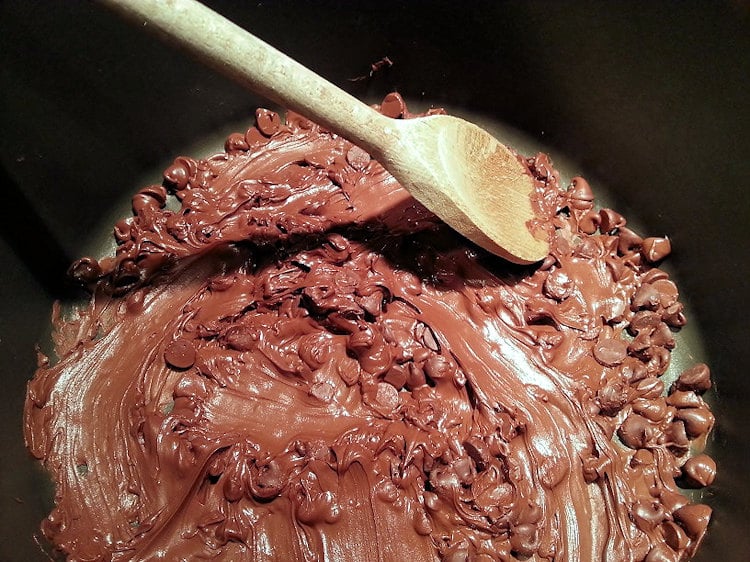 Yum
Swirl the chips around a bit, but do not stir too much or they will start to blob together. If you are using butterscotch chips, add the chow mein as soon as you see the chips start to melt. If you stir the butterscotch chips too much it will turn into a blob.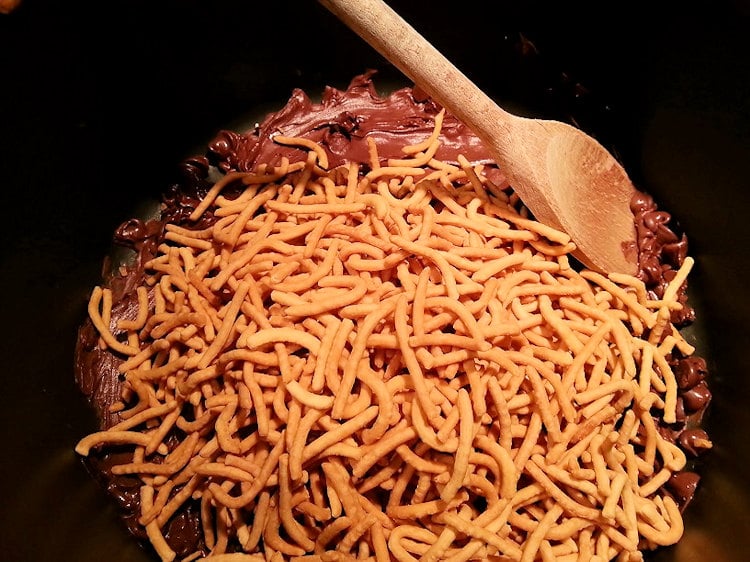 Add the chow mein noodles.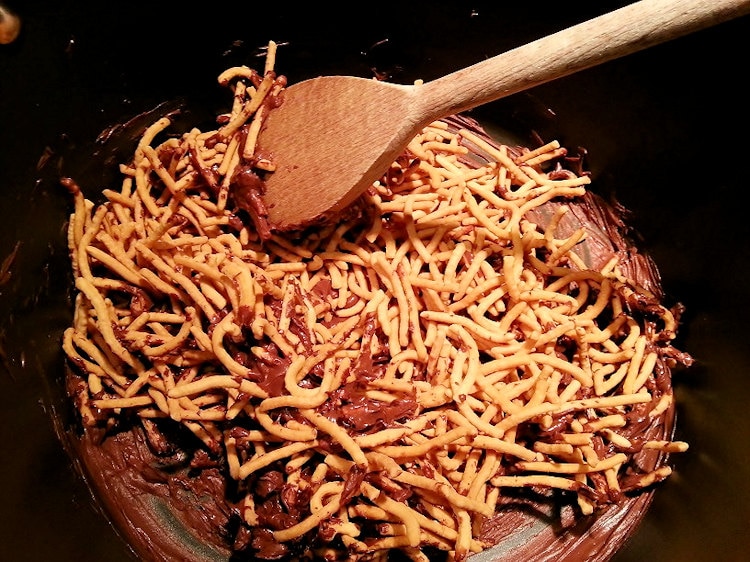 Stir gently
Carefully stir to cover the noodles with the melted chips.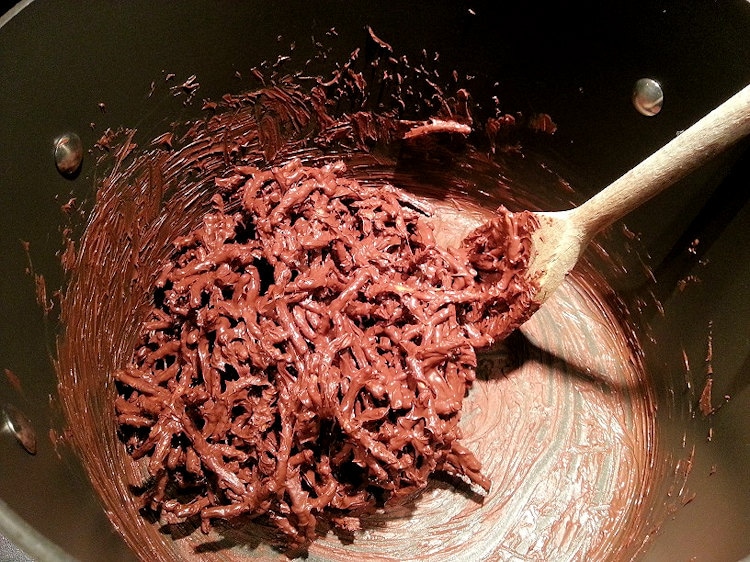 Soon all the chow mein noodles will be covered.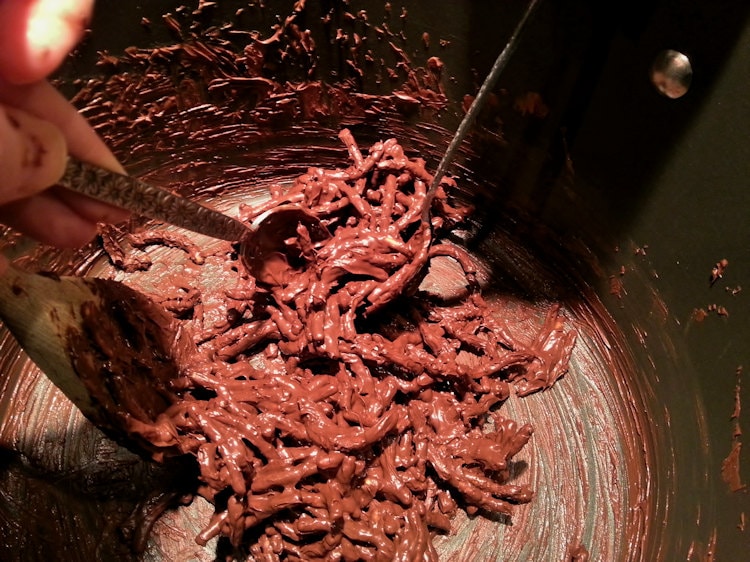 Using 2 teaspoons or tablespoons (depending on the size you want) scoop up some noodles.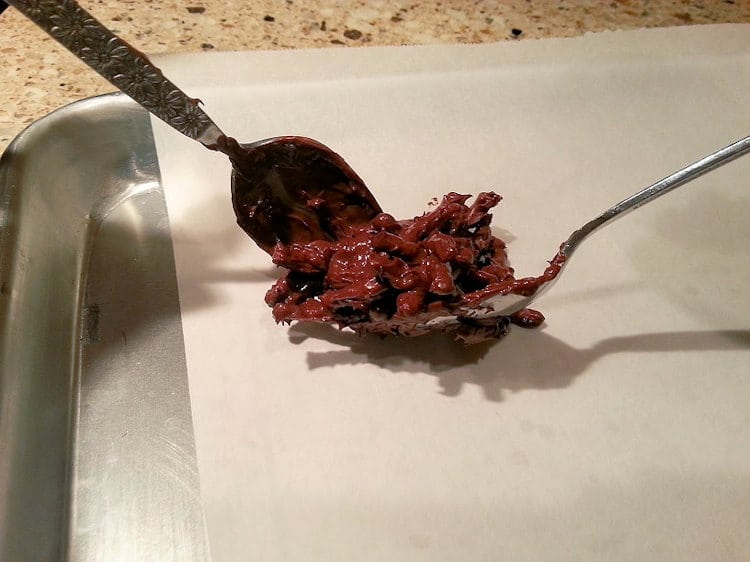 Place the Squiggles on a cookie sheet that has been covered in parchment paper. You can also use wax paper or foil.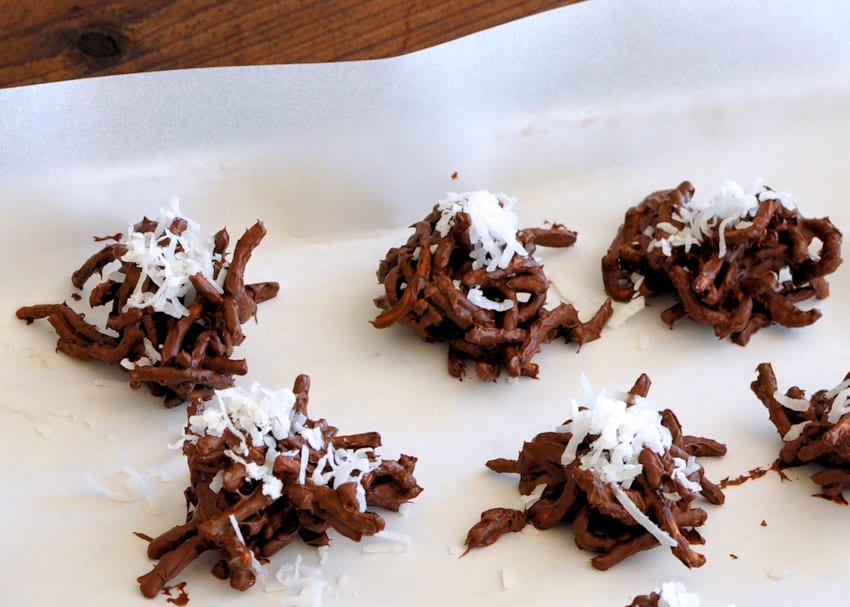 I'm getting hungry!
I think I make mine bigger than grandma used to. Make them whatever size makes you happy!
I used a 12-ounce bag of chips with a 5 ounce can of chow mein noodles. You could probably stretch it a bit and use 7-8 ounces of chow mein noodles and get more cookies out of each batch. Leave them plain or top with coconut, chips, M&M's, or whatever you like. I got about 21 good sized squiggles out of this batch. I think Santa might like this treat!
A cookie with such a fun and silly name like Squiggles and Grandma Zelda just go together. Ask anyone that knew and loved Grandma, they would probably tell you the same. Just like Christmas, they were Fun and Magical!
---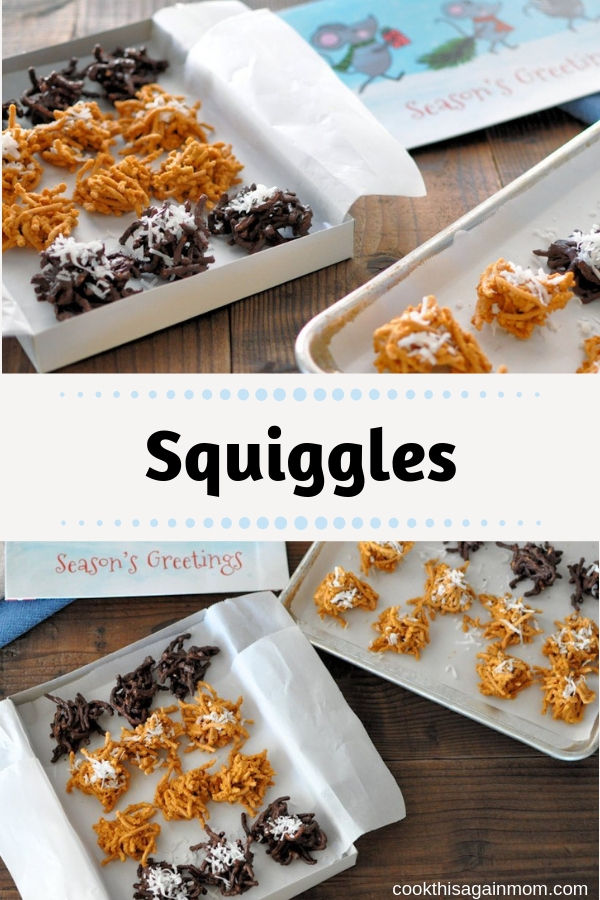 ---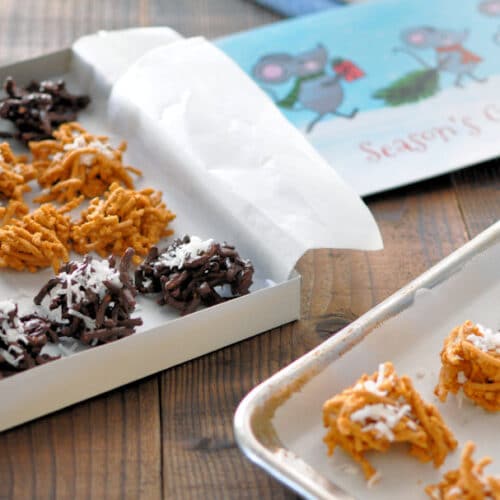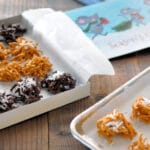 Print
Squiggles
Other people made Haystacks, Grandma made Squiggles.
Ingredients
1

12 ounce bag

chips

chocolate or butterscotch

1

5 ounce can

chow mein noodles

shredded coconut

optional

granola

optional

m & m's

optional
Instructions
Heat a large saucepan over medium-low heat.

Add the entire bag of chips and stir until melted.

Mix in the chow mein noodles and stir until thoroughly coated.

Remove pan from heat and using 2 spoons scoop out about a tablespoons worth of noodles and place on wax or parchment paper.

Top each cookie with coconut, m & m's, or topping of your choice.

Let cool. Makes about 21 cookies.
---