It's the 4th of July, 2014. We didn't have any plans to do anything special, so we figured we would throw something on the grill and spend the day by the pool. We finally decided on BBQ Baby Back Ribs.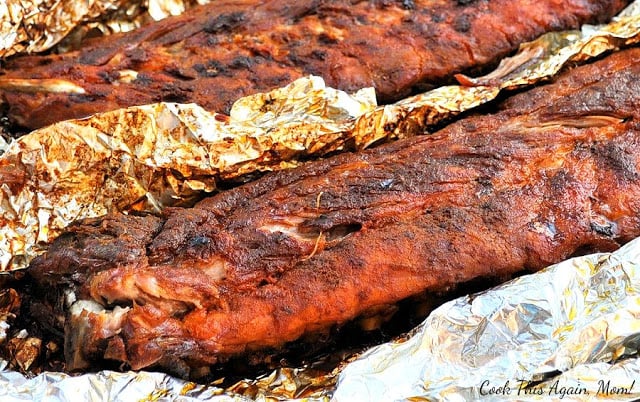 ---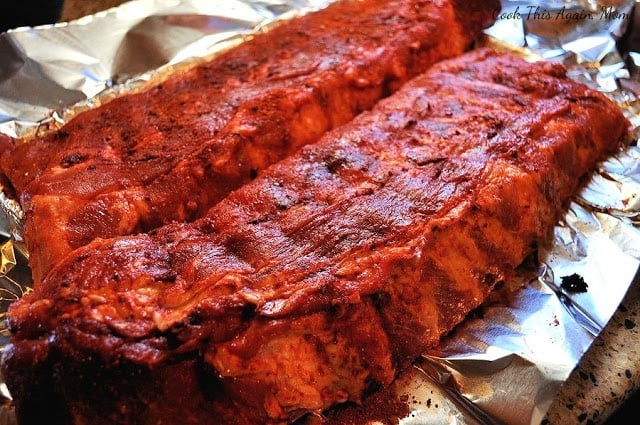 We bought 2 racks of Baby Back Ribs. My son was in charge of the seasoning rub. His delicious recipe below is inspired by a recipe from Alton Brown.

After the rub has been put on the ribs, wrap them up in 2 layers of foil, because you want to trap all that deliciousness in there! Careful that the foil packages stay sealed up and the ribs don't start to poke through. Throw them on the grill for a couple of hours.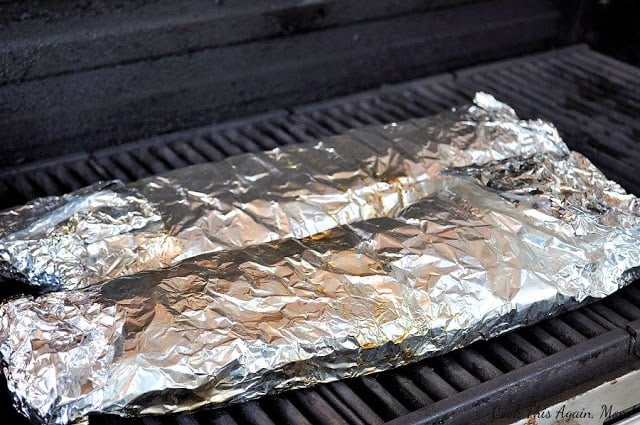 When they are done, you have tender… juicy… delicious… BBQ Baby Back Ribs.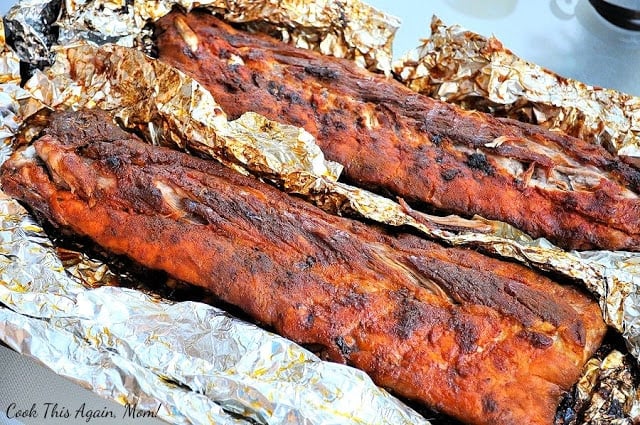 The meat just falls off the bone and melts in your mouth. We don't have any pictures of the ribs other than these, because as soon as we started pulling the meat off of them, we didn't stop eating until they were gone.
This Red Potato Salad makes a great side dish for these ribs.
Seasoning Rub for BBQ Baby Back Ribs
2 tablespoons Smoky Paprika
2-3 tablespoons Brown Sugar
1 ½ teaspoons Orange Zest (we used dried)
2 teaspoons Salt
1 teaspoon Cumin
¾ teaspoon Black Pepper
½ – 1 teaspoon Cayenne Pepper, to taste
Mix all the ingredients together. Rub all the seasoning over 2 racks of baby back ribs. Let the ribs set at least 1 hour before grilling. You could also let them marinade over night.
Wrap the ribs in at least 2 layers of foil. Make sure the foil packages are closed and that the ribs haven't poked through.
Grill over medium-low heat, membrane side down,  for 2 to 2 ½ hours. Let set 10 – 15 minutes and serve. Meat should be falling off the bone, moist, and tender. Enjoy.
Some of the links in this article are "affiliate links", a link with a special tracking code. This means if you click on an affiliate link and purchase the item, we will receive an affiliate commission. The price of the item is the same whether it is an affiliate link or not. Regardless, we only recommend products or services we believe will add value to our readers. By using the affiliate links, you are helping support our Website, and we genuinely appreciate your support.